»

News
KORODED neues Album: Albumtitel, Releasedate, Cover Artwork und Tracklist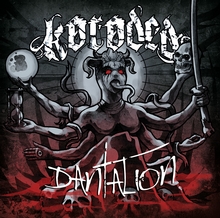 Das neue KORODED Album wird den Titel "DANTALION" und am 27. September veröffentlicht als CD und Download via Noizgate Records / Rough Trade. "Dantalion" ist das erste neue studio album seit "To Have And To Unhold" von 2006, welches diesen März re-released worden ist. Das Cover Artwork kann man sich unten anschauen, die Tracklist von "Dantalion" ist:

01 Dantalion
02 Kill Buddha
03 Phobos
04 Ira
05 Fifteen And One
06 Jim Jones
07 Walking Dead
08 Damnatio Memoriae
09 Wake Me Up (And Tell Me That I'm Dead)
10 Leng Tch'e

Der Song "Kill Buddha" kann bereits hier angehört werden:
http://www.reverbnation.com/play_now/song_13084425

Für ein Rehearsa Video von "Kill Buddha" live aus dem Studio, klickt hier:
http://www.youtube.com/watch?v=hyjJpn4OOUc

Unter diesem Link gibt es die erste Episode eines kurzen Studio-Report-Making-Of-Movies:
http://www.youtube.com/watch?v=obfPn8PzjUE ...wird fortgesetzt!